For several years, sales and marketing strategies such as multi-channel and omnichannel approaches have been emerging. 
Indeed, consumer habits have changed. New consumer trends have emerged: notably through the evolution of digital technology and the emergence of e-commerce giants.
Various studies conducted by Harvard Business and also Forbes show that : 
73% of consumers use different channels for their purchases.
81% of consumers do research on the internet before shopping in physical shops.
82% of consumers use their phones to validate their purchases in shops.
For many years, commerce was mainly done in the traditional way: in physical shops. Now, an omnichannel approach to sales and marketing is essential. 
What is the omnichannel approach?  
The omnichannel approach seeks to offer your customers a fully integrated shopping experience. From the physical shop to the virtual shop, via mobile applications and the full range of possibilities offered by the offline and online world.
Indeed, an omnichannel approach is the integration but also the cooperation of the different channels used by organisations to interact with consumers, in order to create a coherent brand experience. This approach includes physical channels (e.g. shops) but also digital channels (e.g. e-commerce websites).  
The goal of an omnichannel strategy is to create a convenient and seamless user experience for consumers, putting them at the centre of everything.  
An omnichannel strategy can give consumers the option to find and buy online, in-store, or a combination of both - such as the "Click & Collect" option that allows you to buy online and collect the item in-store. 
Today, many industries benefit from omnichannel strategies. From healthcare, retail and finance to technology.
Do not confuse multi-channel with omni-channel
It is essential not to confuse multichannel with omnichannel. 
The multi-channel approach 
The multi-channel approach is simpler to use. It allows content to be published on different channels. Indeed, many years ago, brands and companies could only relate to their customers in two distinct ways: physically through their shops, but also remotely via the telephone and mail. It was only the arrival of new technologies that led to the creation of new so-called digital channels: websites, applications, newsletters, social networks, etc. 
Thus, a multi-channel strategy consists of creating various channels of visibility and contact such as: the creation of pages on social networks, the development of a mobile application, the creation of an e-commerce site, etc. Therefore, the final goal of the multichannel approach will be to reach a maximum of channels independently, while the omnichannel approach will aim to integrate a complete experience for the customer.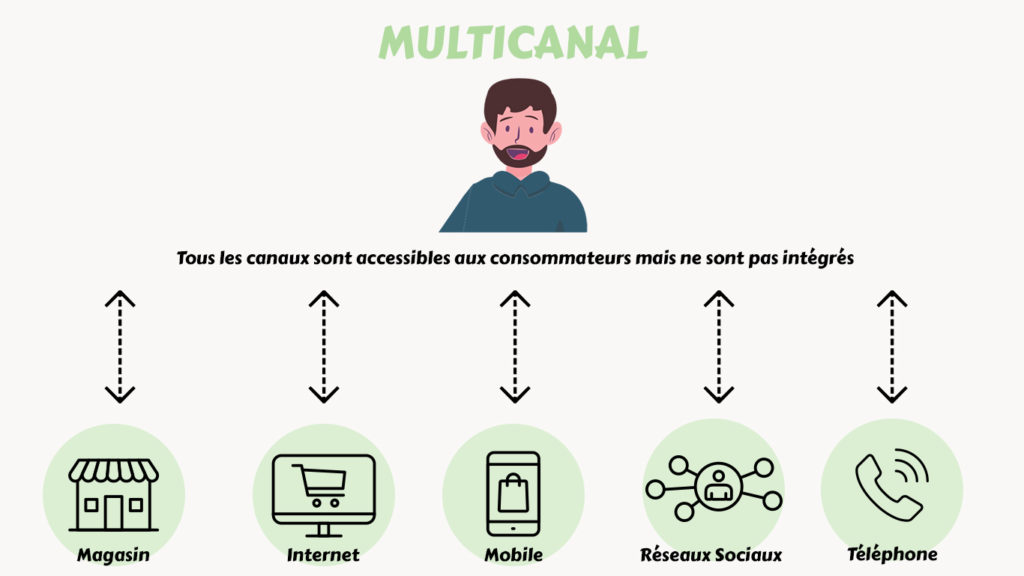 The omnichannel approach
The omnichannel approach merges the different channels in order to offer a complete and pleasant customer experience. Companies therefore offer the same services on all channels, both online and offline. There will be no perceived difference between the different channels. The transitions between them will be smooth. 
Examples of omnichannel devices include the Click & Collect option, which will allow consumers to make their purchase online but collect it in shop. Another example is the use of QR codes, digital terminals or Wi-Fi access in the shops, which are directly linked to the brand's digital channels in order to facilitate the customer experience as much as possible. 
The omnichannel approach is intended to be comprehensive in order to take advantage of all channels to offer consumers a unique customer experience.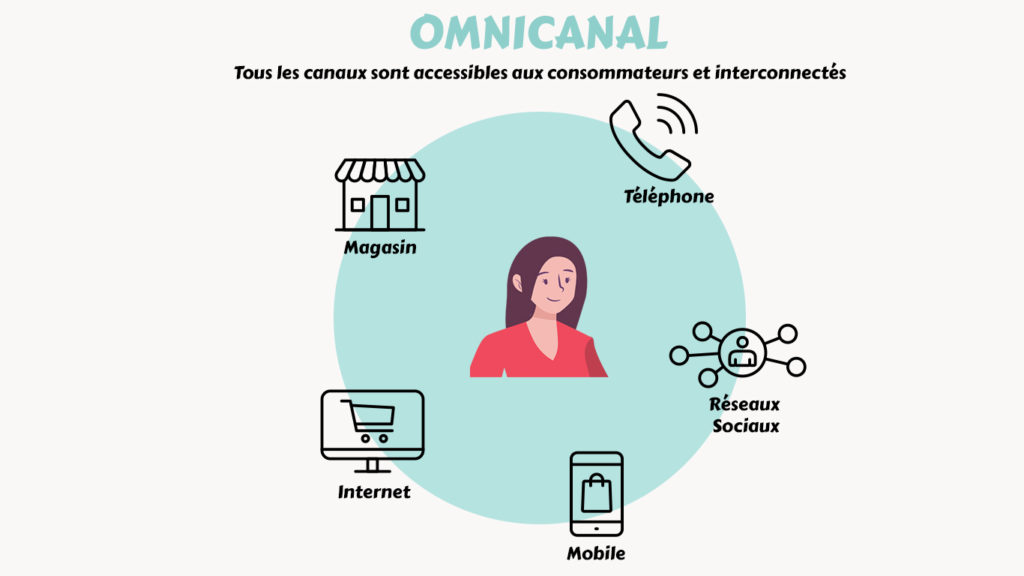 The a
dvantages of an omnicanale approach
Adopting an omnichannel strategy offers many benefits, including a complete and integrated customer experience. It allows you to : 
Adapting to consumer habits
Over the years, consumer habits have changed. Customers have become more and more demanding in their purchasing power and options. The buying process is no longer a matter of going to a retail outlet and buying a product. But involves extensive research and comparison of different products before making a decision actually proceed to the purchase. 
Strengthen your brand image
Choosing an omnichannel strategy also means developing your image and thus the credibility of your brand. Being present on different channels will allow companies to highlight their offers and give them the possibility to stand out from their competitors. 
This online presence through the publication of informative content such as blog posts will help to create a bond of trust between potential prospects and customers. Not only that, being present on the different channels will also give you the chance to strengthen your brand image. 
Improving the performance of your business
A successful omnichannel strategy is not only about better visibility but also about increased sales and therefore performance. Indeed, the easier and more consistent the consumer experience is across the different channels used, the higher your conversion rate will turn into sales. 
Indeed, the omnichannel approach will allow you to improve your performance indicators (KPI) because it will allow you to better target your prospects and customers. This will increase click-through rates, conversion rates and also reduce your cost per click for your online ads.
Improve customer experience
Indeed, the choice of an omnichannel marketing strategy allows the consumer to make purchases at any time, night or day. They are free to choose what suits them, whenever they want and wherever they want (physical shops, e-commerce site, mobile application, etc.). They also have a choice of delivery method, whether it will be at home, in a relay point or in Click&Collect. 
Indeed, as mentioned above, 73% of consumers use different channels for their purchases and more than one in eight say they use the Click & Collect option. This option allows customers to save on shipping costs but also to exchange or return items purchased online directly in shop. So many options and features that help improve the customer experience. 
Optimise your stock management
Inventory management is one of the most important advantages of the omnichannel approach. Indeed, your stock is entirely managed from a central platform (a management tool such as an ERP for example) and in real time. This means that your customers can access the items you have in stock both online and in shop instantly. 
In short, why choose an omnichannel approach? 
Choosing the omnichannel strategy means allowing your customers to shop whenever they want. Transferring your products from one stock to another, or simply delivering your customers. Offering the Click & Collect option, but also ordering in shop and having it delivered directly to their home, etc.
The strategy of omnichannel marketing is first and foremost to make the choice of the future. Your customers have the choice of having an online experience while having the option to switch to an in-store shopping experience and vice versa. So adopting an omnichannel approach can help you increase your customer base. Ensure customer satisfaction and build loyalty. But above all it is a real competitive advantage.
Choose the omnichannel approach!
You too can make the choice of omnichannel and create your own e-commerce site! Contact us to talk about your project. Our team of experts will guide you through all the stages of creating your online sales website.