What is an ERP?
An ERP (Enterprise Resource Planning) is a software package offering a set of integrated functionalities for managing a company. From entering quotations, taking orders, invoicing, managing stocks, to posting entries.
In other words, integrated management software is software that is specifically designed to efficiently manage all the internal management processes of a company.
ERP: how to make the right choice?
The features and functionality of each ERP system can vary depending on its origin. While some companies choose to develop their own custom software, this is extremely expensive. In addition, it can be risky if the teams behind the development lose their skills. 
Other solutions that are less expensive, but just as effective, are standard ERP solutions. These solutions are adapted to the most common functions and are offered by the editors of the market. Among them, you will find Microsoft, SAP, EBP, Cegid ...
Some of these solutions even allow for the addition of specific functionalities in order to fully meet the needs of each company.
To make the right choice of solution, one step is essential, even absolutely essential: the functional analysis of needs.
This stage will make it possible to identify all the needs covered by the standard functionalities of the envisaged solution. But above all, it will identify the adaptations and specific developments necessary to cover the remaining needs.
It is therefore very important that the chosen solution offers sufficient flexibility and openness to allow for certain customised adaptations, without altering the functioning of the standard processes guaranteed by the publisher.
With this in mind, Smotly, a Microsoft certified partner, offers you the opportunity to discover one of the best ERP systems on the market: Microsoft Dynamics 365 Business Central.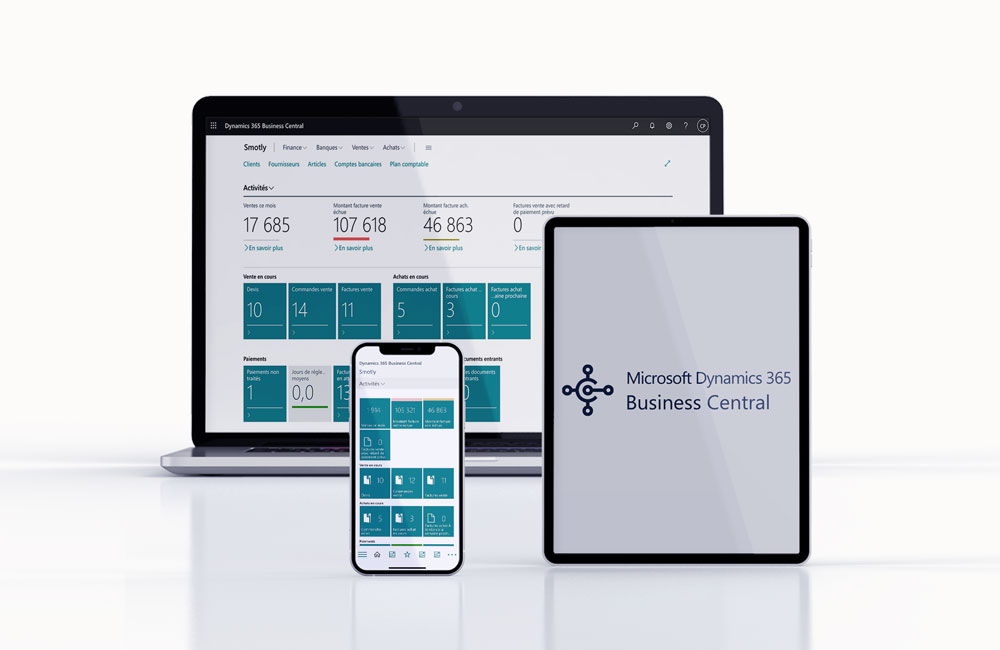 From Microsoft Navision to Dynamics 365 Business Central
Microsoft, the world's leading software company, offers an ERP with a wide range of standard functions through its Dynamics 365 Business Central offering. In addition, the publisher allows the development of Apps to meet specific needs and to integrate them in a completely transparent manner for the end user.
Moreover, this system is developed by one of the world's leading companies in this field: Microsoft. This offers a real advantage to Microsoft Dynamics 365 Business Central compared to other alternatives on the market. As a result, Microsoft Dynamics 365 Business Central integrates naturally with the entire Microsoft universe: Office 365, Power BI, Teams, Power apps and much more.
Formerly known as Microsoft Navision (NAV), the management solution has become Dynamics 365 Business Central since 2018. The solution is suitable for VSEs, SMEs and also for large groups.
Whereas the Microsoft NAV version offered a solution that was directly implemented on site. The new version of the business software, Dynamics 365 Business Central, is located in the cloud.
Completely reworked and redesigned, this major update offers more freedom but also fluidity to the users of the solution. 
The benefits of Dynamics 365 Business Central
An ERP that is easy to use and quick to set up
Microsoft Dynamics 365 Business Central is in line with the continuity of the products offered by the editor. It is easy to use and integrates with all other Microsoft applications: Office (Word, Excel, Outlook, etc.) , CRM , SharePoint , etc. This facilitates its implementation and especially the training of your employees. The integration of the various Microsoft applications saves time for the users concerned and allows them to be more productive in their work.
ERP SaaS 
Dynamics 365 Business Central is a SaaS business software. This allows you to take your data with you wherever you go. Whether it's on a computer, tablet or mobile device, the management software adapts to your needs and desires. Indeed, hosted on the Azure Cloud, the management platform is compatible with Windows, Android and iOS. 
In addition, the choice of the so-called SaaS solution allows for automatic updates of your software. In addition to minor updates, you benefit from two major updates per year, directly from Microsoft, and from the associated new functionalities.
Finally, choosing to host your ERP on the Azure Cloud allows you to protect all your data, particularly in the event of theft, leakage or fire. 
Low costs 
                Full users
Full Users" are those users who need full access to the application's functionalities in order to carry out their tasks in the best possible conditions.
For example: sales staff, customer service, members of the finance department, etc. These users must have a full licence with a subscription to Microsoft Dynamics 365 Business Central Essentials or Premium.
The Microsoft Dynamics 365 Business Central Essentials license offers a set of features that meet the needs of many businesses of all sizes. 
This management software allows you to manage your finances, sales and opportunity management via the integrated CRM, procurement and inventory management as well as project management.
The Microsoft Dynamics 365 Business Central Premium licence is the most complete solution offered by Microsoft. It offers the same features as the Essentials licence, plus two additional functionalities: service management and manufacturing management.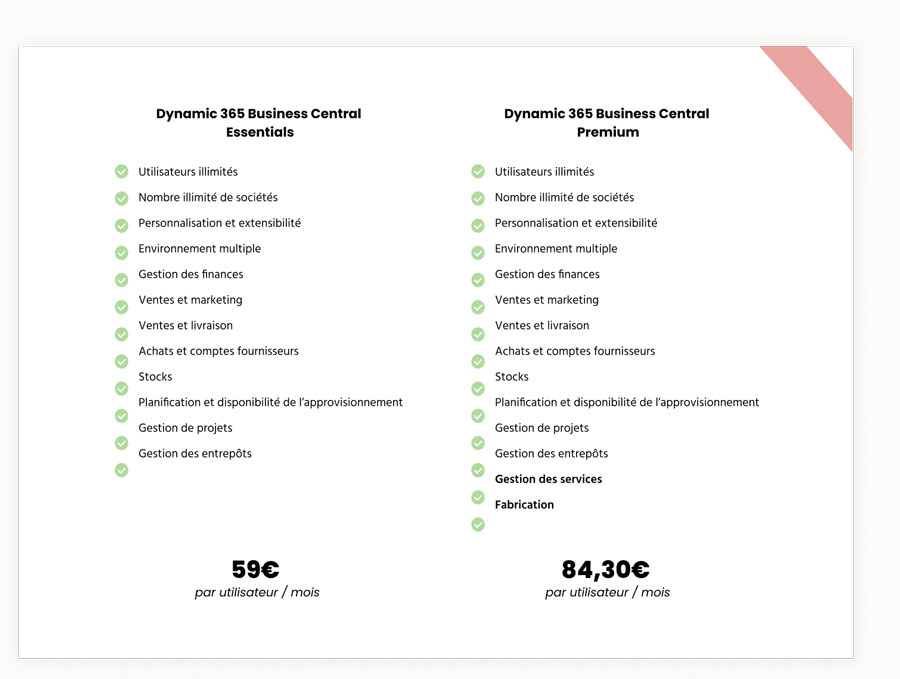 Additional users
Additional users, also called "Team Members" by Microsoft, are those who need to consult data or reports directly from the management software systems. They do not need to have full access to sensitive data such as purchases, sales or company finances.
Therefore, the "Team Members" licence will allow your employees free access to a simple reading of certain data of your management system.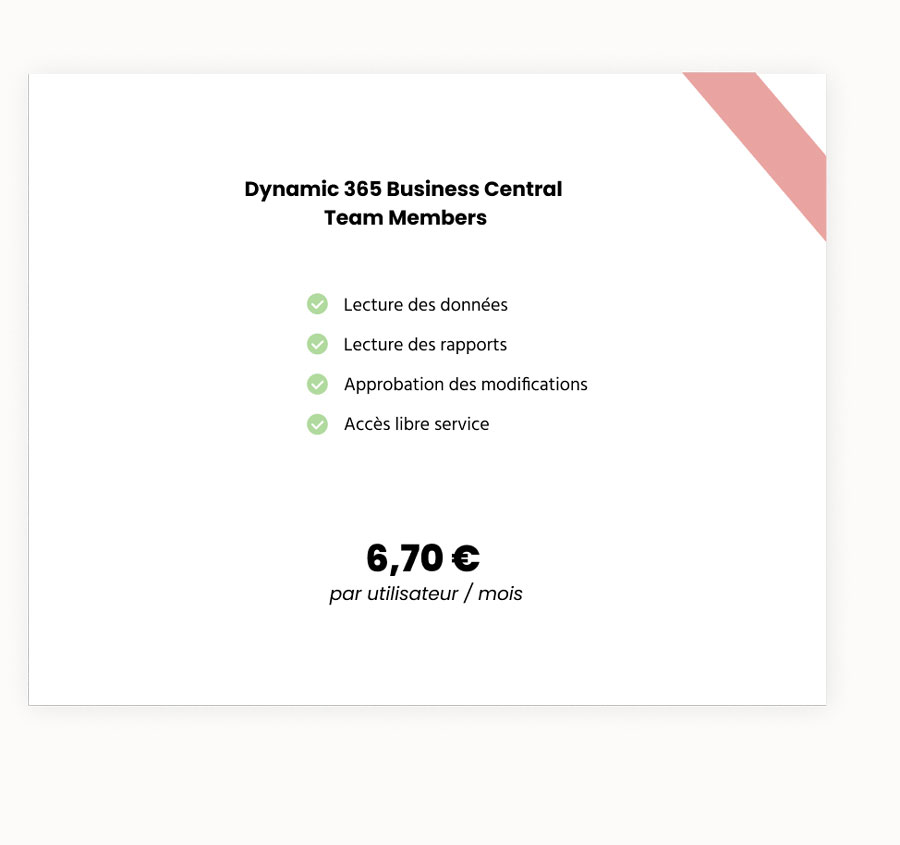 Dynamics 365 Business Central features
Finance
Business Central allows you to manage your company's finances entirely. Indeed, the ERP offers you the possibility to take care of your general, customer or supplier accounting. But that's not all: your cost accounting, fixed asset management and cash management can all be managed within Business Central.  
Microsoft Dynamics 365 Business Central gives you the ability to manage your payments, bank reconciliations and project costs. The integrated business software allows you to take full control of your finances and expand your business globally by supporting multiple currencies, inter-company transactions, exchange rate updates and more.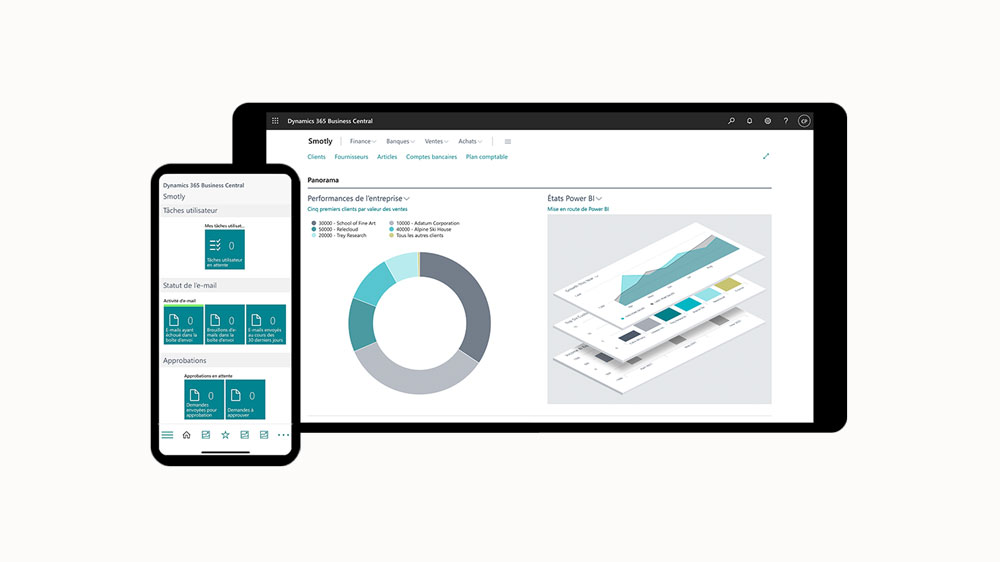 Commercial management
                Marketing & CRM
Business Central supports you in your prospecting and retention of existing customers, as well as in your effective marketing campaigns thanks to the integrated CRM and its functionalities. 
Indeed, the CRM integrated into your Business Central solution will enable the management of these different aspects: contacts (prospects and customers), order history, campaigns and sales opportunities, etc.
                Sales management
First of all, you should not forget that the main purpose of an ERP is to manage your sales. Here, Business Central fulfils its role perfectly. In addition to managing your customer and prospect lists, the software will allow you to generate your commercial documents: quotes, orders, invoices and credit notes. 
In addition, the management of your product prices can be fully automated thanks to their customisation according to customer groups, quantities, or even validity dates. All combinations are possible.
Finally, you will be able to trigger actions throughout the workflows of your sales documents in order to automate and associate advanced functionalities: purchase requests, triggering of shipments, etc.
In short, it is difficult not to meet any need without mentioning, once again, the possible additional adaptations.
                Purchasing management
As with sales, you will have full control over the purchasing process. From the creation of orders, to sending them to your suppliers, through the receipt of goods, but also to the registration of your purchase invoices. 
You will have the possibility to attach several suppliers to a product with specific purchasing conditions for each of them. An approval loop system can be set up as standard.
Of course, the ERP tool is in direct contact with your financial department. This will allow you to transfer your documents directly to the accounting department in order to reconcile the corresponding invoices as soon as they are received.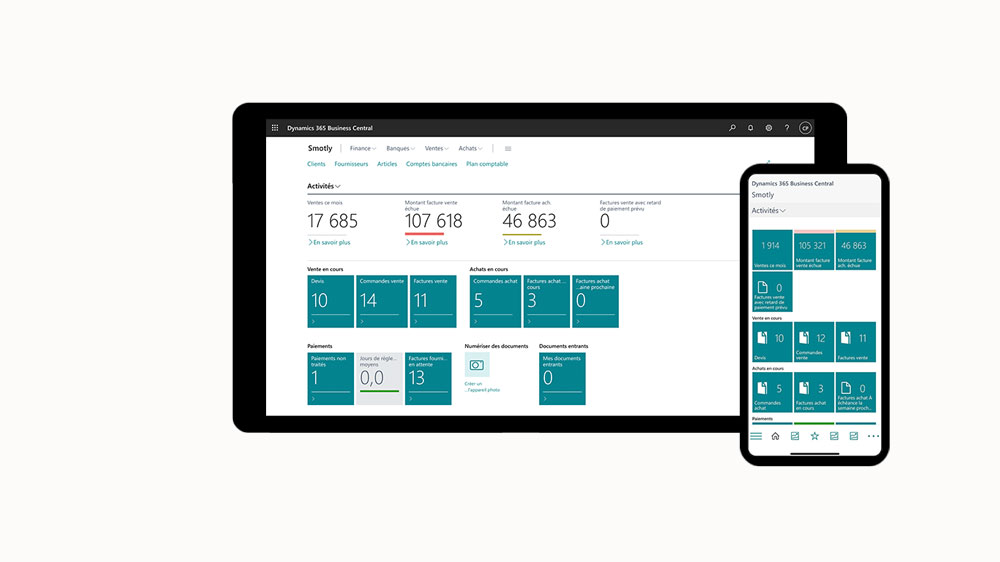 Stock management
The integrated management software allows you to automate your supply chains. This ensures that your stock levels are always optimal, thus reducing shortages and lost sales. Several valuation modes are of course offered as standard and you can freely manage locations and warehouses.
Service management
Business Central allows the management of service items. The management tools put in place offer the possibility of managing your after-sales service with ease. Whether it is for a product replacement or a repair.
Your service orders also include labour costs, the price of spare parts or the sending of loaner products during the after-sales service. The service management tool allows you to manage your work orders in order to optimise staff management and workload.
Production
Managing your production is the second additional functionality offered by the Premium licence. Business Central allows you to record and validate your production. And this, while keeping an eye on your material and time consumption thanks to the creation of production orders.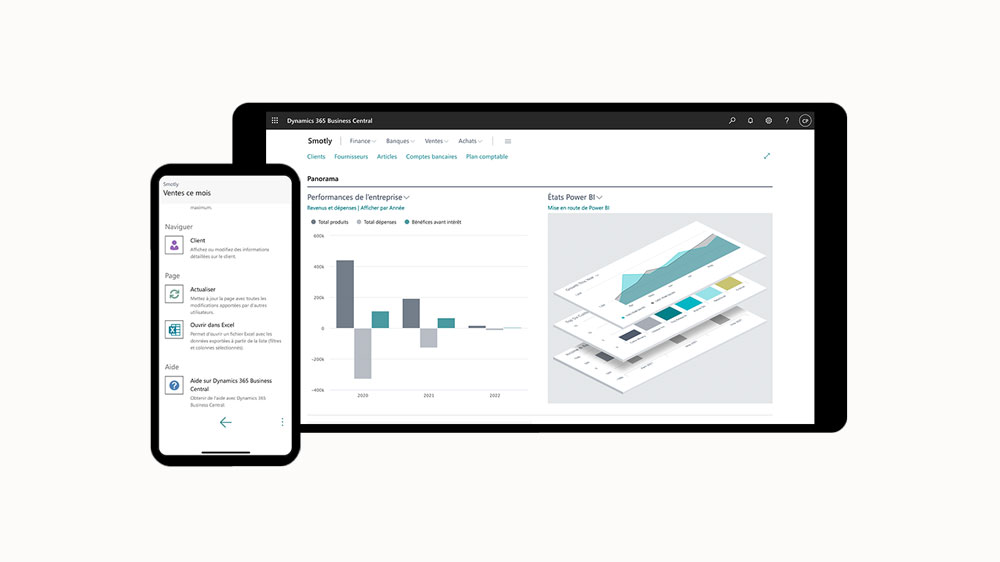 Customised solution
One of the advantages of Microsoft Business Central is that it allows you to integrate specific functionality with applications developed by partners or your integrator.
These applications are integrated in a completely transparent way for the users. However, they remain dissociated from the standard proposed by the editor. This architecture guarantees the maintenance and updates of the editor, while meeting very specific needs not covered by the standard solution.
Smotlink: BigCommerce integration with Business Central
Just like our BigCommerce solution, Microsoft Business Central has a completely open API. This makes it easy to communicate with third-party applications.
Your e-commerce site and your ERP solution are thus synchronised to optimise the management of your stocks, your product prices and the follow-up of orders for your customers.
This improves the user experience and makes your management more efficient.
Try Business Central
With Microsoft Dynamics 365 Business Central, Smotly can meet the needs of all types of companies. SMEs, mid-market or larger companies that want to implement an intelligent, simple and adaptable management solution.
The Smotly team, a member of the Microsoft Certified Partner Program, is an expert in the integration of this solution.
Do not hesitate to contact us or to ask for a meeting to discuss your business management solution integration project.