Find out how a coat and jacket shop like Bohemian Traders managed to become one of the largest fashion retailers in Australia. This was achieved by making the choice to migrate to BigCommerce, doubling their data.
166% annual revenue growth

Customer growth of 309%.

Over 17,000 orders processed
The Bohemian Traders success story
It all started when Emily Berlach, founder and creative director of Bohemian Trader, found a custom-made bohemian jacket on the internet. She contacted the shop to purchase it, however, it was out of stock. 
The shop had no intention of restocking, so Emily looked for another supplier online. She discovered that the minimum purchase quantity was 10 jackets. With nine jackets left, she launched her online shop on the BigCartel platform. Then she promoted the jacket on her blog (The Beetle Shack), and sold them all in just 2 hours. 
After 3 years, several failures of its BigCartel online site, a failed migration to Volusion, 166% annual growth on BigCommerce, over 500 products in its catalogue, thousands of SKUs and 10,000 customers, Bohemian Traders is one of Australia's most coveted online fashion and clothing brands. 
And this is just the beginning for Emily and her team!
Today, we invite you to discover the history of Bohemian Traders and its evolution through the words of its CEO, David Berlach.
A platform that grows by 166% per year.
"The business started on the BigCartel platform as a simple hobby, complementing what Emily was already creating on her blog. As it grew, it became clear that we needed a more comprehensive platform. The BigCartel site was starting to malfunction and was no longer meeting our needs due to our rapid growth. 
We then switched to Volusion, but it quickly became apparent that their system was outdated and there were many things that we couldn't do but that seemed easy enough on other platforms like BigCommerce and Shopify. 
So we started to look at the different options, especially between BigCommerce and Shopify. We did some research and finally chose BigCommerce primarily for its ease of scalability. Indeed, we didn't want to sign up for a platform that we would have to change again.
Our goal now is to continue our rapid growth without burning out, so to speak. Without a doubt, it has been incredibly exciting. Since our first day of business, we've grown 166% a year and some of that growth can definitely be attributed to the move to BigCommerce. This year we're looking at another 160% curve. So everything is going from strength to strength. It's very exciting to be part of this project."
Actionable analytics for data-driven customer segmentation.
"We use BigCommerce analytics quite extensively on a daily basis. In fact, it's one of the main reasons we chose BigCommerce and not Shopify.
As part of our BigCommerce Enterprise plan, we have access to BigCommerce Insights, which makes it easy to analyze our shop data and trends. We don't have to pull data from spreadsheets and sort it to see what's going on. Instead, it allows us to focus on extracting Insights data into a CSV and tailoring campaigns to target specific customer segments."
Ready-made customer groups to reward quality segments.
"We work very hard to inform our customers about the products we sell. We believe in the quality and fit of our clothing and we maintain prices with outstanding customer service. It's clear that as a direct retailer, our strongest profitability comes from full retail sales, so we look at our customer segments in BigCommerce Insights to achieve this.
This was about really rewarding customers who pay full price. So they get early access to our new collections and are the first to get invitations to Champagne Shopping evenings, etc.
In addition, we use BigCommerce's ready-made customer groups to do this segmented merchandising. This is essential for our business. As a small player, we don't want to be caught in a race to the bottom. So we focus on areas where we can really add value for our customers and our business."
IntuitSolutions implements simplified improvements.
"The BigCommerce payment page page is a ready-made a ready-made page. It's really good, but we wanted something more streamlined. So we worked with BigCommerce partner IntuitSolutions, who overlaid the checkout page and reorganised all the information.
Now there are three columns on the payment page. There is no scrolling at all. It's clean and not distracting to customers. Also, we can brand it or include upsells or cross-sells as needed. It works very well.
IntuitSolutions has also integrated Google so that when the customer starts to enter their address, the form auto-fills or gives them suggestions, then fills in the rest of the page for them. This makes the checkout process very smooth."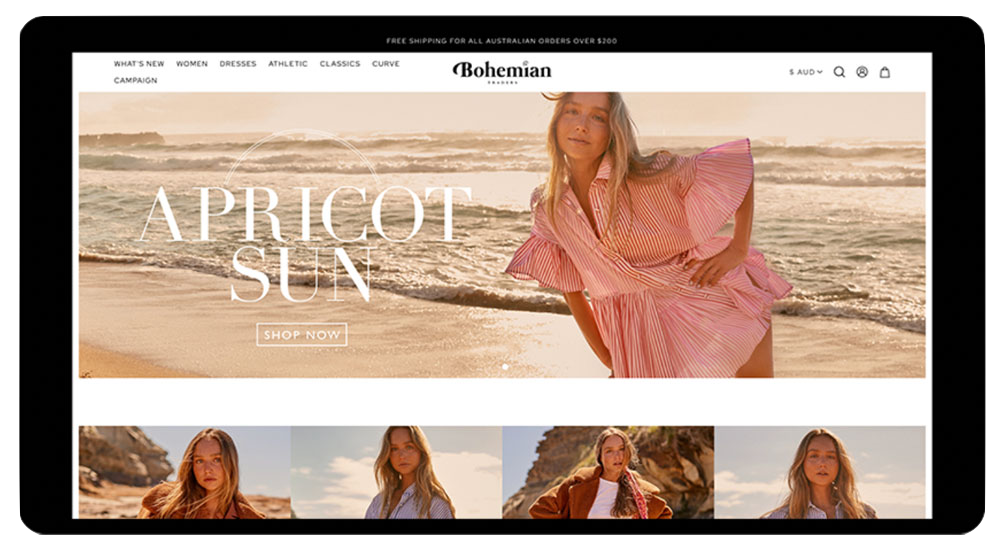 Merchandising in a multi-channel environment
"We strive to display the same messages and campaigns on Facebook, Instagram, email and our homepage. 94% of our traffic comes solely from Facebook, Instagram and email, so it's important that these channels work in unison.
We refresh and redesign the site regularly enough that the homepage is updated every week with new visual content. We launch brand stories every three weeks. In addition, we strive to tell a different story often to promote various products and engage customers in various merchandising campaigns.
What people see on the homepage of the site and what they see on Facebook, Instagram and email is targeted around these stories."
Preferred and trusted payment providers, regardless of the country you sell to
"We use PayPal Braintree as our payment solution, which allows us to also accept Mastercard and Visa. We also offer ZipPay, which is an Australian-based payment credit provider. ZipPay works a bit like an online wallet, and it works very well for us.
97% of our customer base is Australian, and ZipPay is recognisable to them and easily integrated with BigCommerce."
Thousands of SKUs without any problems
"We have thousands of SKUs. We have about 500 individual products, but each product has different sizes, from extra small to 4XL. Every season we introduce about 100 new products, each with different SKU numbers.
The upload process is fairly straightforward, and BigCommerce handles our high number of SKUs without any problems at all."
One-click (shipping) integrations worldwide
"In terms of shipping, we use Australia Post, and that works well for us at our stage. We also use an integrated application called StarShipIt, which is directly integrated with BigCommerce. StarShipIt is the middleman between our BigCommerce shop and our e-parcel account with Australia Post. For us, it's a one-click system. The integration synchronises all data in both directions.
BigCommerce apps integrate easily with platforms and there are tons that can be used with a single click. With our previous platforms, you had to use a third-party conduit to get an app to work, which increased costs and added complexity."

Leveraging the BigCommerce blog to build a stronger strategy
"We found an amazing article on the BigCommerce blog that really reinforced what we have been thinking in terms of strategy. We are focusing on revenue multipliers: increasing average order value, increasing purchase frequency and increasing the total number of customers.
This article has described the process of success perfectly. We will be implementing many of these elements over the next 6 to 12 months."
Lessons in organic growth
"Our advice to other online sellers is to start slowly and grow organically. Increase your use of tools as you need them, not when someone else tells you you need them. Understand all your costs clearly and keep your accounts in order. This will ensure that your cash flow can fund the business as you grow.
Also understand who your customer base is and determine how to address them directly.
Finally, use a platform that doesn't get in the way. With BigCommerce, everything is very easy to use. It's intuitive and it's scalable. Scalability is a very important thing."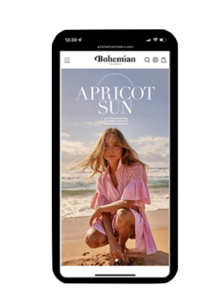 Smotly, your BigCommerce partner agency
Our agency Smotly is specialized in the integration of the BigCommerce e-commerce solution. Thus, we can meet the needs of all types of companies, SMEs, mid-Market or larger companies, wishing to implement or redesign their e-commerce platform in BtoC and/or BtoB.
Indeed, the Smotly team is composed of seven certified people, members of the BigCommerce certified partner program.
Do not hesitate to consult our article on the advantages of the BigCommerce solution or to request a meeting to discuss the subject of BtoB and BtoC e-commerce!