BigCommerce is an Open SaaS e-commerce solution. Created in 2009 in Australia, the solution is now present in over 150 countries. Among the best e-commerce solutions on the market, BigCommerce has recently arrived in France.
Smotly became the first BigCommerce partner in France. So, to learn a little more about the solution and its characteristics, we suggest you discover its various advantages!
Known for its low total cost of ownership, powerful performance and scalability, discover 10 good reasons to choose BigCommerce for your e-commerce project!
1. The Open SaaS e-commerce platform
First of all, the first advantage of BigCommerce is its Open SaaS model. The e-commerce solution combines the freedom and flexibility of an open source solution with the reliability of a SaaS interface.
SaaS platform, hosting, maintenance, 24/7 support, updates, security are fully integrated in the subscriptions. You pay a fixed price each month. The SaaS format allows you to get your site online in record time and at a lower cost than a traditional open source platform.
The platform is open and allows a great flexibility . This element gives you the opportunity to customise and follow the evolution of your online shop. You will therefore not be limited by ready-to-use features.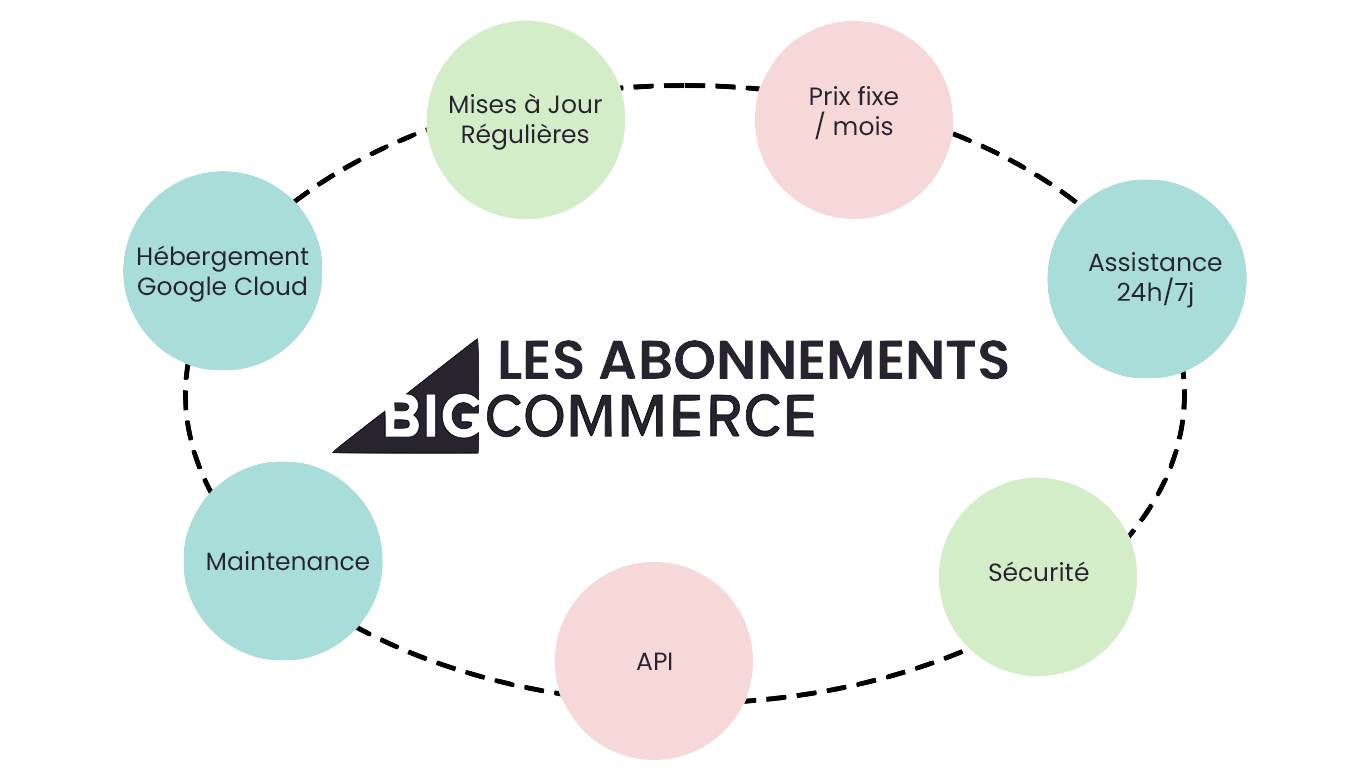 Thus, the platform combines the best of open source and SaaS!
It is this model, combining innovation, flexibility and reliability, that made us at Smotly want to join the BigCommerce partner program!
The fact that BigCommerce can manage the infrastructure regardless of peak traffic and transaction volumes, while allowing the solution to be tailored to the needs of each company, is a major advantage for our customers.
2. BigCommerce customization capabilities
The BigCommerce Open SaaS platform offers the possibility of a "headless" architectural model.
In this architecture, its back-office is not linked to any front-office system. Instead, content is made available via an API or "Application Programming Interface".
This API will allow data exchanges between the back-office (BigCommerce) and the front-office (the one of your choice). This is an essential advantage because one and the same content can be distributed on a website, an application or any other service. This offers its users unlimited creative possibilities. BigCommerce can also interface with other software or CMS such as WordPress.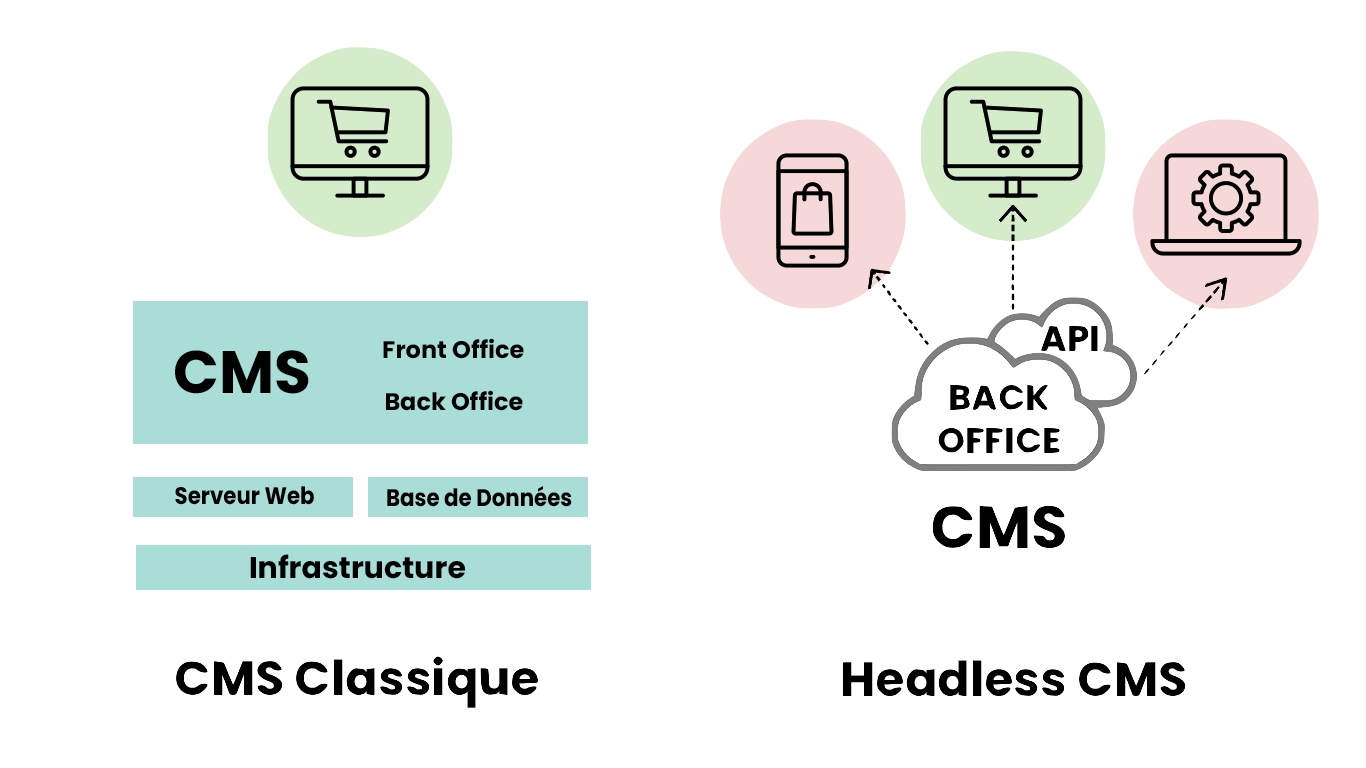 Choosing to go headless will have many advantages such as:
Supply several shops via different platforms: the headless architecture makes it possible to manage several shops on different front-ends from a single back office.
Improve the user experience: you can create a front end with your own solutions, in Progressive Web App or even with WordPress.
Reconcile experience, content and commerce: the Headless format will allow you to combine the best possible user experience (content and design) with efficient e-commerce management.
In addition, BigCommerce has an API that is over 90% open. The API is documented at: https: //developer.bigcommerce.com/api-reference. This site aims to allow developers (both professional and amateur) to learn how to develop applications through the BigCommerce platform. By sharing its data for free, it has made the choice to encourage developers to innovate while improving the use of its own products.
It is important to know that APIs are used much more than you might think. Indeed, they are present everywhere and facilitate the exchange of information with your logistician, your CRM solution or your ERP, your POS system. You will use APIs in different situations. For example:
The Catalog, Orders and Customersroutes which will allow data exchange concerning products, orders and customers. Thus, in real time, data such as product stock, new customer orders or order status will be updated automatically everywhere.
The Connexion API which allows your customers and prospects to connect directly to your sites and applications using a single account.
The BigCommerce platform also offers many predefined themes. Whether free or paid, its catalogue of fully customisable themes allows you to optimise your chances of visibility and performance. In addition, theme updates are included in your subscription.
Thanks to its Open SaaS format, it will also be possible to create a custom theme. At Smotly, we create fully customized themes. In order to offer you an original web design and a true visual identity, we provide UX/UI services in collaboration with your teams during creative workshops.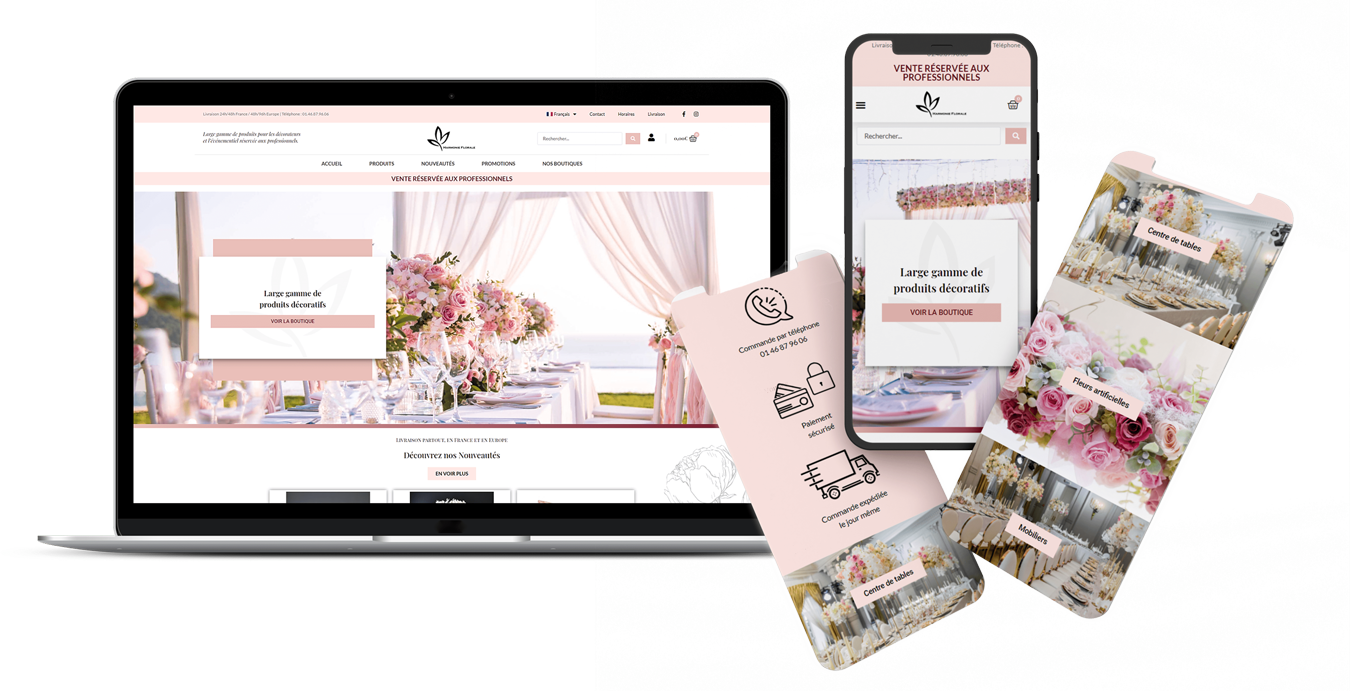 3. BigCommerce's omnichannel approach
The BigCommerce platform helps you develop a multi-channel sales strategy. It integrates with multiple channels both online and offline. These include ebay, Amazon, Google, BuyNow, Instagram, Square, Facebook, but also points of sale (POS) for physical shops.
But be careful, omnichannel is not just about selling on multiple channels! It is about providing a consistent brand experience across the different places your customers are (online or offline).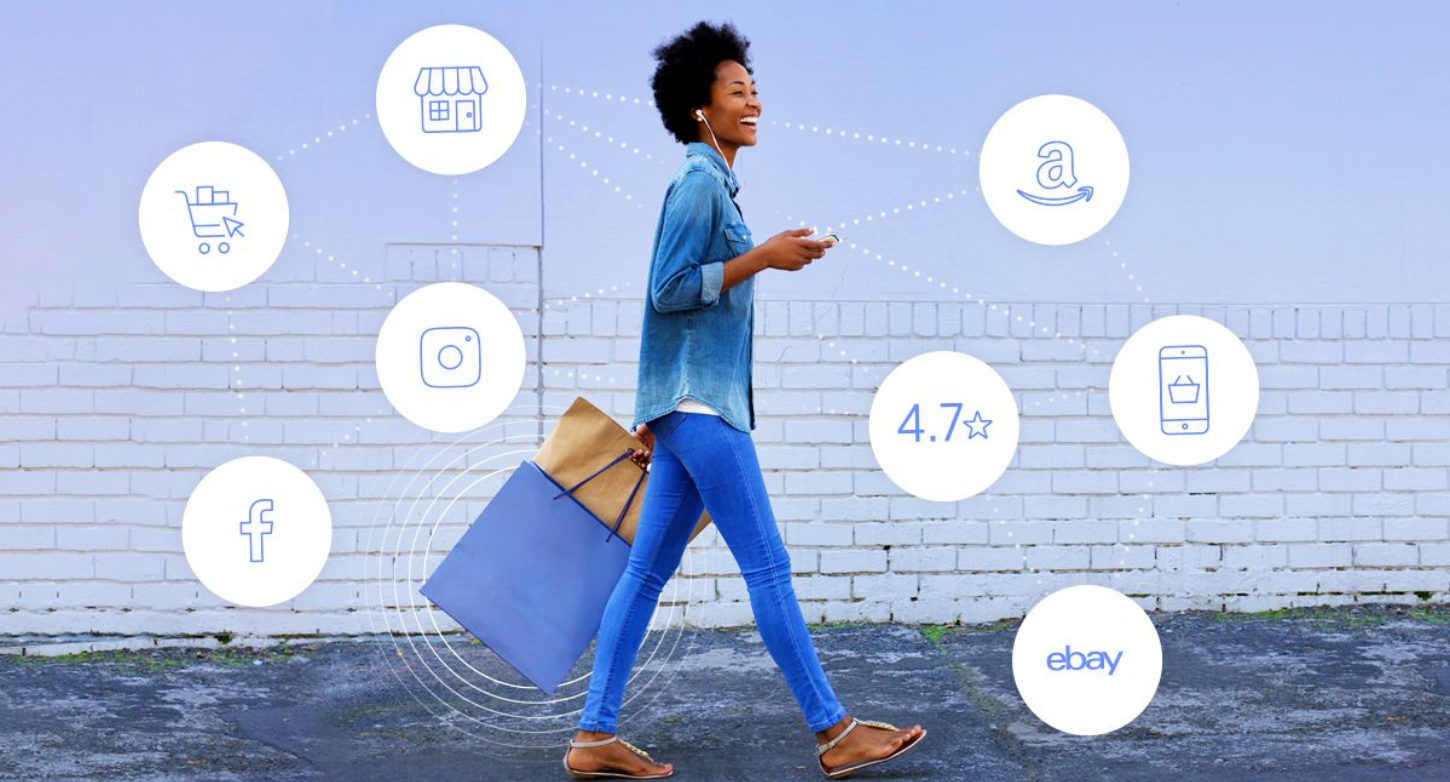 The omnichannel approach allows for the merging of offline and online sales, inventory and accounting of your company.
This type of operation is all the more important since the Covid-19 crisis. Indeed, the crisis has led to a change in consumer habits. 46% of retail managers say they want to increase their investment in omnichannel in the future, compared to their pre-pandemic investment plans.
BigCommerce is an e-commerce solution that offers powerful SEO features. First of all, the solution includes the basic SEO features: modification of titles, meta descriptions and headers. It is also possible to modify URLs, especially those of product pages in order to have short URLs.
One of the major advantages of the solution in terms of SEO is the optimisation of mobile navigation. This is a key element of SEO, since the indexing of sites on Google is done primarily on their mobile version. This is known as "mobile first indexing", which has been in place since March 2021.
Optimising mobile pages is possible on BigCommerce thanks to themes that adapt to different screen types. In addition, many of them are compatible with AMP technology. AMP (Accelerate Mobile Page) allows you to speed up the loading time of your website's mobile pages. The principle is to adapt the pages and their functionalities to the mobile screen. This can be done by removing elements of code or functionality such as comments on articles.
Finally, all BigCommerce subscriptions include the "Akamai Image Manager" feature. This is a feature that automatically optimises images to reduce their loading time.
Loading speed is a technical element that favours the SEO of web pages. Thus, access to AMP technology, image optimization or the development of a Progressive Web App front-end are real advantages of the BigCommerce solution in terms of natural referencing.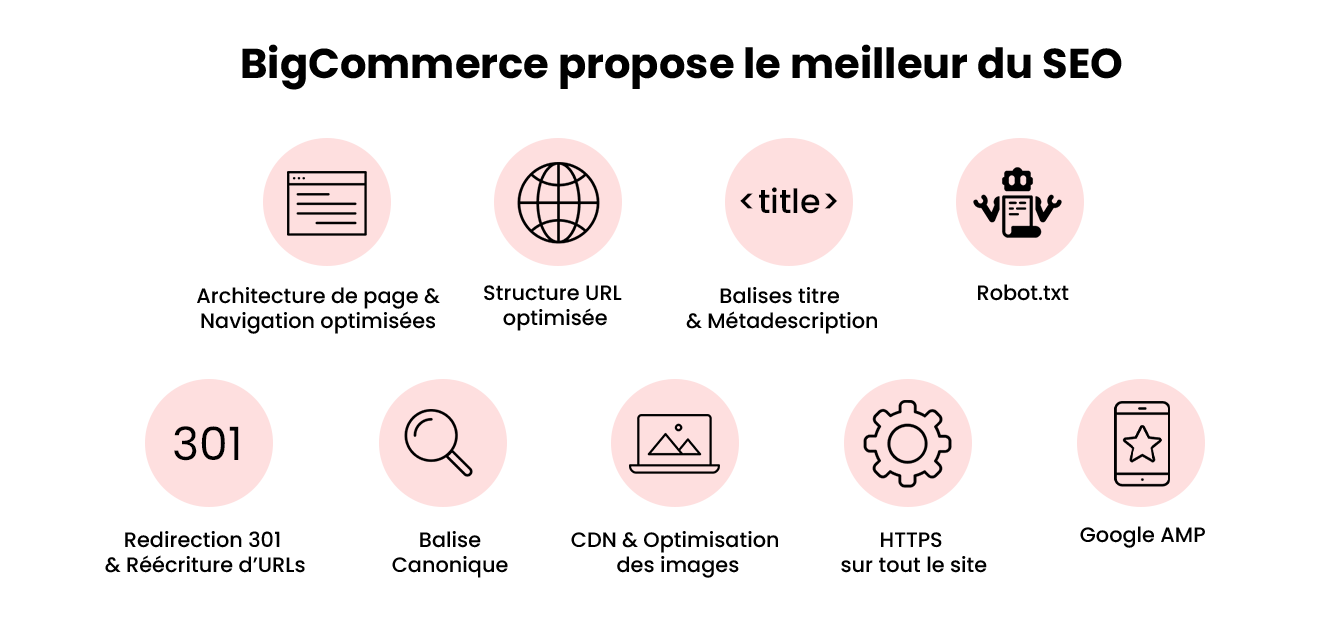 Smotly systematically provides SEO support to ensure that each website is SEO ready and SEO friendly.
5. BigCommerce Support Center
One of the great advantages of BigCommerce is its help center. Indeed, the platform offers a help center directly on its website. Divided into different sections, many solutions will be provided to help you respond to the difficulties you may encounter when setting up your site.
In particular, you will find a knowledge base in the helpdesk that contains a variety of articles, videos, documents and guides to help you improve your skills. If you do not find a satisfactory answer in this database, you can always call upon the BigCommerce community via the FAQ. Do not hesitate to ask your questions, you will surely find valuable advice among the 131 500 members of the community of e-commerce experts. You can also join the many groups of people with similar profiles in order to share your experiences or your interests in order to optimize your website's performance.
Still can't find the solution to your problems? BigCommerce also has a 24/7 technical support. Indeed, you will always find a person to answer you at the slightest difficulty. Whether by phone, email or live chat, you will receive an answer as soon as possible. With an average response time of two minutes and 90% of solutions given on the first call, BigCommerce will stand out to offer you the best conditions to use and improve your website.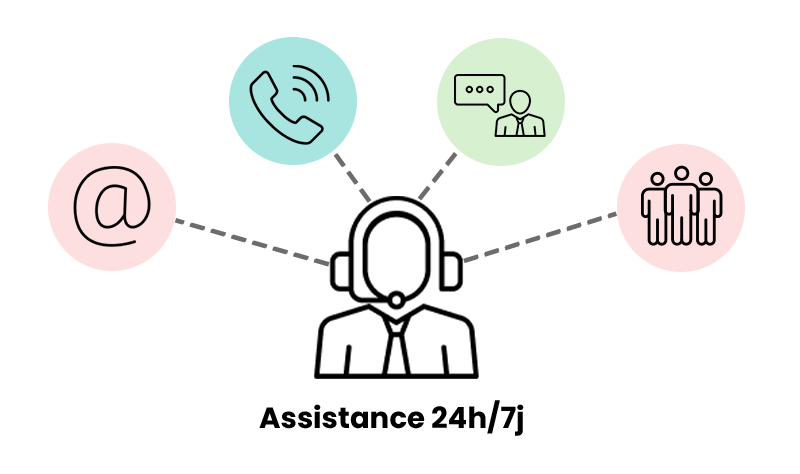 Do you have an idea or a particular desire for functionality? BigCommerce offers its community members the opportunity to contribute to the development of the platform by submitting their suggestions for improvement via a section within the support centre named "Ideas".
Of course, Smotly can offer you a complementary service of personalized assistance on your BigCommerce solution, taking into account the possible specificities set up by our teams.
6. Security of the e-commerce platform
The BigCommerce platform is considered one of the most secure e-commerce solutions. The solution is certified according to ISO/IEC 27001 and PCI DSS 3.2 Level 1.Which means that the platform meets the requirements of the various information security management systems, thus ensuring the security of sensitive information. This includes the processing of bank data in a fully secure manner. The data will be fully encrypted to protect the personal information of your customers and prospects.
In 2019, BigCommerce has chosen to migrate to hosting via the Google Cloud platform. The latter has been designed to ensure maximum performance but also the security of the IT technologies it hosts. This means that you will not need to worry about the security of your infrastructure. This will be entirely taken care of by the BigCommerce platform as part of your subscription.
BigCommerce offers the best uptime in the e-commerce industry. With anuptimeof 99.99% compared to the average of only 99.5% for the rest of the eCommerce industry. It offers reliability and performance that is unique in the market. Indeed, by offering a record time of operation without restarting, the platform ensures the least amount of crashes or administration operations that could cause harm to your website.
7. BigCommerce solution prices
BigCommerce offers a wide range of prices. If you wish to create your e-commerce site via this solution, you can choose between 4 subscriptions according to your needs.
Standard, Plus and Pro Plans
The first 3 levels of subscriptions, called Standard, Plus or Pro, can be purchased on a monthly or annual basis. For the Plus and Pro subscriptions, it is more advantageous to subscribe on a yearly basis, which will lower the price when paying in one go.
No matter which subscription you choose, it will include hosting, the tool to build your e-shop but also different options to help your sales chances. These options will change according to the package you choose. The basic features include payment on a single page, the ability to offer promotional codes or gift cards, automatic calculation of shipping costs, the blog page, and also the ability to obtain online ratings and reviews.
A switch to the so-called Plus subscription offers additional features. For example, you will be able to create customer groups or segments. It will also be possible to generate a reminder for abandoned shopping carts, save the shopping cart and credit cards. 
Choosing a Pro subscription will allow you to integrate Google reviews, but also a search bar and filters to facilitate the experience of your customers and prospects within your e-commerce site. However, these additional features come at a cost that can quickly become out of reach for small businesses.
Finally, there is a fourth subscription, the Enterprise plan, for which prices are subject to quotation. This last programme is adapted to companies that are growing very quickly and to mid-market companies. It can also meet the needs of a BtoB business. Prices are customised according to each situation, including sales volume (number of orders per year). The latter subscription promises the lowest performance/total cost of ownership ratio on the market. It allows you to accelerate the launch of your site, reduce its costs while improving the user experience and back-office management.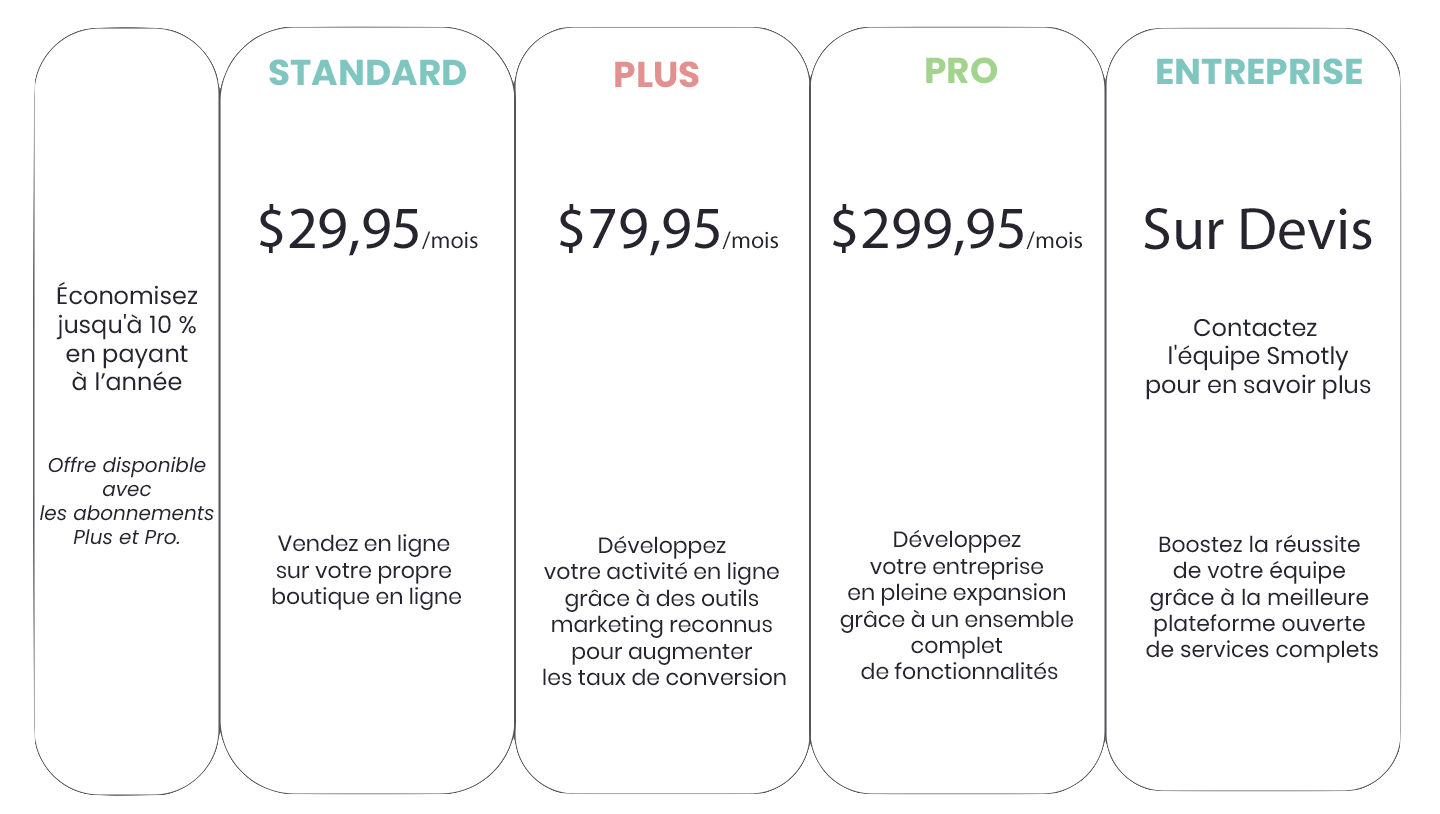 Finally, unlike some SaaS platforms, BigCommerce does not take any commission on sales.
BigCommerce offers several integrated payment options, including PayPal, Stripe, Square and Apple Pay. As soon as your e-commerce site is set up, you can choose from a large number of payment gateways. We advise you to find out more before making your final choice. They do not all accept the same payment methods.
The great thing about BigCommerce is that all of these payment options require no additional setup fees! In fact, BigCommerce does not charge any fees from these gateways. However, as usual, commissions will be charged by the payment gateways.
BigCommerce offers the possibility to integrate various payment processes faster and easier than other solutions, without additional installation costs.
At Smotly, the integration of the Stripe module, for example, is free of charge and is part of the standard package.
9. A solution that adapts to all companies
With its Enterprise plan, the solution is perfectly suited to growing businesses. BigCommerce defines itself as "the SaaS platform adapted to all stages of growth of your ecommerce". Indeed, its open model allows BigCommerce to accompany companies in their different phases of evolution.
BigCommerce is primarily geared towards SMEs and mid-market companies. However, with its different pricing plans, the platform is able to meet the different needs of companies, from the smallest projects to large accounts.
For example, the first subscription is very affordable. Starting at $29.95, it offers out-of-the-box features that are perfect for start-ups and small e-commerce projects.
Then you can access many more in-depth features by upgrading to other packages (Plus, Pro or Enterprise), depending on your needs and the size of your online shop.
BigCommerce is therefore the most powerful solution on the market, adapting to all companies and all business models, whether they are B2C or B2B.
10. BigCommerce offers a B2B module
BigCommerce offers a B2B module, to be integrated into the Enterprise plan and the B2B bundle.
In addition to the low cost of the SaaS model and its automatic updates, the B2B offer allows merchants to generate sales more quickly thanks to optimised themes and ready-to-use functionalities.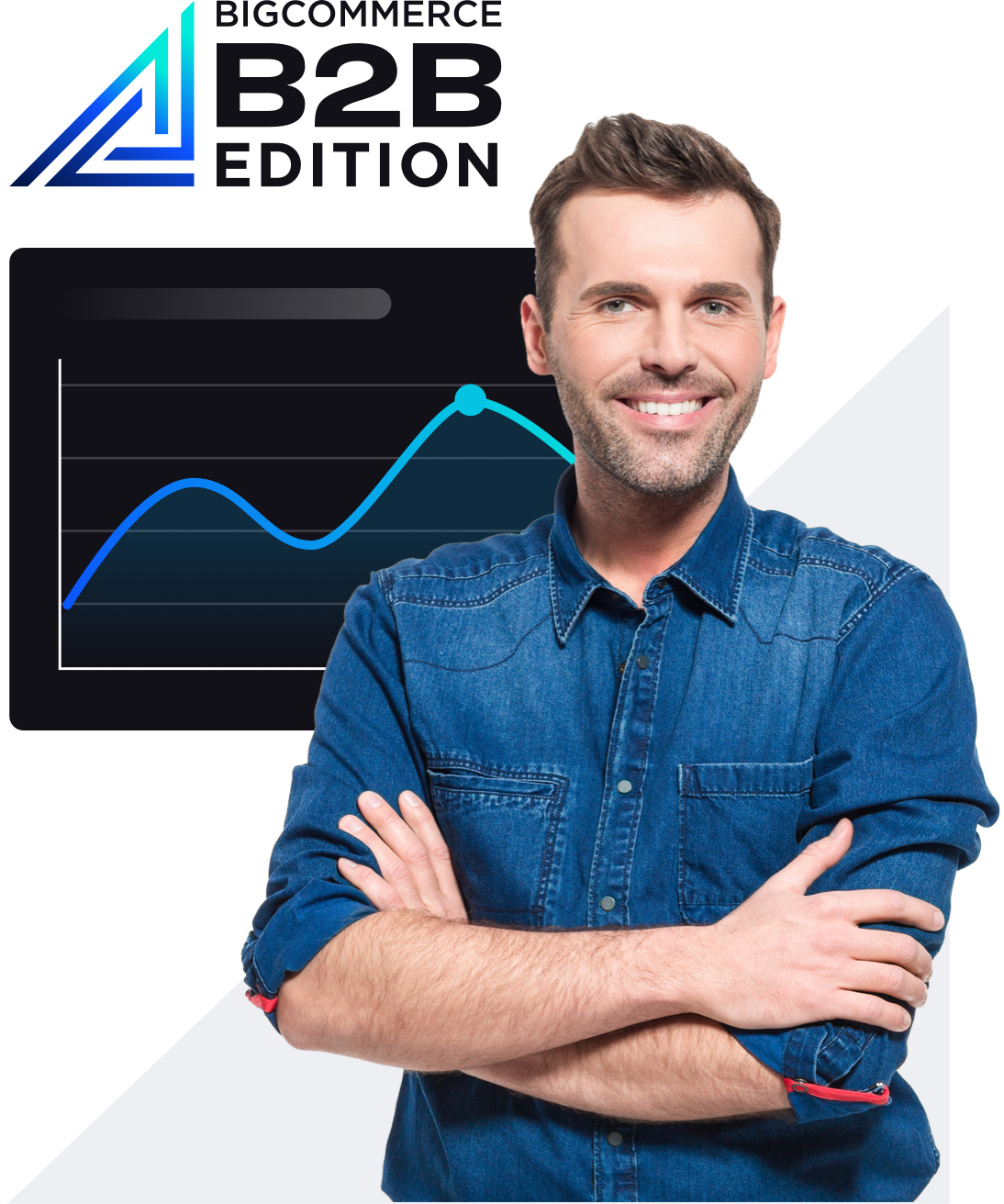 In this B2B edition, BigCommerce offers a real module integrating all the necessary functionalities for the management of a B2B business, among which we can mention :
Price lists and customer groups: This feature allows you to customise product prices and offer company-specific discounts.
Reordering: to reduce purchasing time, this feature provides access to the company's purchasing history.
Corporate account management: this feature will allow the buying company to have a dedicated account, with several levels of buyers who can have specific roles and authorisations.
Quote creation: this feature allows sales staff to create a quote and offer additional discounts to customers in addition to the pre-set prices
Invoice portal: this feature allows you to manage invoices and their payment online with different payment methods.
You will find in this module a set of functionalities specially adapted to the needs of B2B businesses. In addition to this, BigCommerce offers a Direct-to-consumer approach, which aims to make B2B and B2C sales possible thanks to a single platform.
Some features are also very useful for a BtoB business as buyers now expect to have the same experience as on a BtoC site. For example, the scan & go function allows you to scan a product to order it directly via the e-commerce site. This is a feature offered by Smotly, and improves the user experience by simplifying the purchasing process.
The Open SaaS model proposed by BigCommerce and Smotly, offers much more than open source solutions for your e-commerce site. Whether it is hosting, security, updates or maintenance of your site, open SaaS offers the best conditions of use, while guaranteeing flexibility and scalability.
Some studies have shown that the maintenance costs of open source solutions were ultimately much higher.
With BigCommerce, Smotly can meet the needs of all types of companies, SMEs, mid-market or larger companies, wishing to implement or redesign their e-commerce platform in BtoC and/or BtoB.
The Smotly team, composed of seven certified people, is a member of the BigCommerce certified partner program and is an expert in the integration of this solution.
Do not hesitate to contact us or to request a meeting to discuss the subject of BtoB and BtoC e-commerce!